Overview
There are a variety of options available for providing website navigation, including:
Using top navigation (a navbar) with optional sub-menus.

Using side navigation with a hierarchy of pages.

Combining top and side navigation (where top navigation links to different sections of the site each with their own side navigation).
In addition, you can add full text search to either the top or side navigation interface.
Back to Top
You can include a "Back to top" link at the bottom of documents in a website using the back-to-top-navigation option. For example:
website

:




  

back-to-top-navigation

:

 

true
Note that you can disable back to top navigation on a page by page basis by specifying back-to-top-navigation: false.
Reader Mode
If you'd like users to be able to hide the side navigation and table of contents and have a more focused reading experience, you can enabled reader-mode. When enabled, a reader-mode toggle will appear on the navbar, if present, or on the sidebar. When pressed, the toggle will 'roll up' the sidebar and table of contents.

To enable reader-mode, use the following in your project:
website

:




  

reader-mode

:

 

true
Site Search
You can add site search by including search: true in either your site-navbar or site-sidebar configuration. For example:
website

:




  

sidebar

:




    

style

:

 

"docked"




    

search

:

 

true




    

items

:




      

-

 

text

:

 

"Basics"




        

contents

:




          

-

 index.qmd




          

-

 basics-jupyter.md




        # etc
GitHub Links
You can add various links (e.g. to edit pages, report issues, etc.) to the GitHub repository where your site source code is hosted. To do this, add a repo-url along with one or more actions in repo-actions. For example:
website

:




  

repo-url

:

 https://github.com/quarto-dev/quarto-demo




  

repo-actions

:

 

[

edit

,

 issue

]
The links will be displayed immediately below the page table of contents: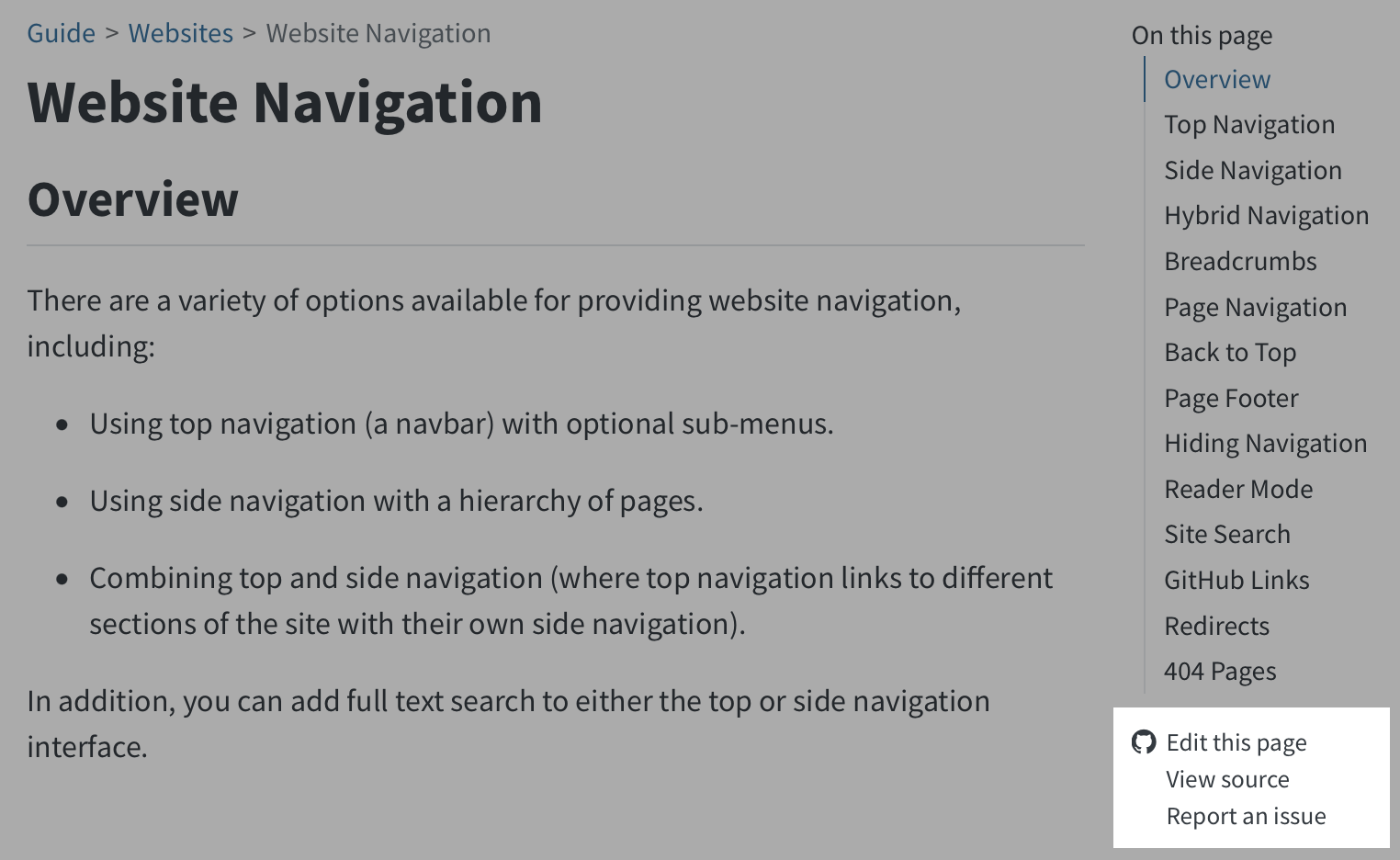 There are a couple of additional options that enable you to customize the behavior of repository links:
| Option | Description |
| --- | --- |
| repo-subdir | Subdirectory of repository containing source files (defaults to root directory). |
| repo-branch | Repository branch containing the source files (defaults to main) |
| issue-url | Provide an explicit URL for the 'Report an Issue' action. |
Redirects
If you rename or move a page on your site, you may want to create redirects from the old URLs so that existing links don't break. You can do this by adding aliases from old pages to renamed pages.
For example, let's say you renamed page.qmd to renamed-page.qmd. You would add the following aliases entry to renamed-page.qmd to create the redirect:
---




title

:

 

"Renamed Page"




aliases

:




  

-

 page.html




---
This can also be useful for situations where you re-organize content on your site into a different directory hierarchy or break one large article into smaller ones. For this case, you may want to add the URL hash of the section that you have broken into a new page. For example:
---




title

:

 

"Learning More"




aliases

:




  

-

 overview.html

#learning-more




---
Depending on where you are deploying your site there may be more powerful tools available for defining redirects based on patterns. For example, Netlify _redirects files or .htaccess files. Search your web host's documentation for "redirects" to see if any of these tools are available.
404 Pages
When a browser can't find a requested web page, it displays a 404 error indicating that the file can't be found. Browser default 404 pages can be pretty stark, so you may want to create a custom page with a more friendly message and perhaps pointers on how users might find what they are looking for.
Most web serving platforms (e.g. Netlify, GitHub Pages, etc.) will use a file named 404.html in the root of your website as a custom error page if you provide it. You can include a custom 404 page in a Quarto website by creating a markdown file named 404.qmd in the root of your project. For example:
---




title:

 Page Not Found




---




 The page you requested cannot be found (perhaps it was moved or renamed).
You may want to try searching to find the page's new location.
Note that you can use HTML alongside markdown within your 404.qmd file in order to get exactly the appearance and layout you want.
Your 404 page will appear within the chrome of your site (e.g. fonts, css, layout, navigation, etc.). This is so that users don't feel that they've irrecoverably "left" your site when they get a 404 error. If you don't want this behavior, then provide a 404.html rather than 404.qmd.
Here are some examples of how various popular websites handle custom 404 pages: https://blog.fluidui.com/top-404-error-page-examples/.
Non-Root Site Paths
If your website is served from the root of a domain (e.g. https://example.com/) then simply providing a 404.qmd file as described above is all that's required to create a custom 404 page.
However, if your website is not served from the root of a domain then you need to provide one additional bit of configuration to make sure that resources (e.g. your site's CSS) are resolved correctly within 404 pages.
For example, if your site is served from https://example.com/mysite/ then you'd add the following to your project website configuration within _quarto.yml:
website

:




  

title

:

 

"My Site"




  

site-path

:

 

"/mysite/"
Note that if you are already providing a site-url (which is required for generation of sitemaps and social metadata preview images) then it's enough to simply include the path within the site-url:
website

:




  

title

:

 

"My Site"




  

site-url

:

 

"https://example.com/mysite/"